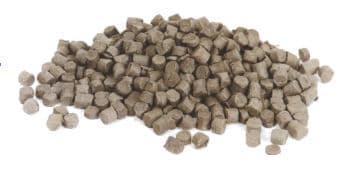 Bentonite pellets are made from natural, organic free, high-swelling bentonite, they are designed for use in the groundwater monitoring industry to form a chemically resilient, highly impermeable and flexible seal. Bentonite pellets isolate screened intervals of monitoring wells and provide an excellent seal for abandoned boreholes.
Functions
Easy to use
Provide a highly impermeable well seal
Does not shrink or crack
Easy to pour to depth
Uniform size helps prevent bridging
Chemically stable.
Self-sealing; remain flexible when saturated and will rehydrate.
Typical Properties:
Permeability range: 1 x 10-7 to 1 x 10-9 cm/sec.
Free Swelling Volume: > 500% ( after 48 hrs)
Contained Swelling Volume: > 40% ( after 48 hrs)
Settling Velocity: 40 (cm/sec)
Swelling Onset: 15 minutes
Pelle Diameter: 8 mm
Pellet Lenght: 5 -15 mm
Bulk Density: 1,05 – 1,10 g/ml
Specific Gravity: 2,2 – 2,5 g/ml
Colour: Light Grey

Typical Chemical Analysis
SiO2: 65,3%
Al2O3: 11,7
Fe2O3: 6,36
TiO2: 0,63
CaO: 1.01
MgO: 3,35
K2O: 1,70
Na2O: 4,90
Loss on Ingnition: 5,7
H20: 14-18%
Composition (By XRD Analysis)
Montmorillonite Clay: Major ( ca. 40%)
Calcite: Some
Feldspar: Minor
Alpha Quartz: Minor
Recommended:
For shallow applications, pour bentonite pellets slowly and steadily to prevent blocking and bridging.
For deep applications, bentonite pellets may be tremied into place – add bentonite pellets to the tremie pipe and quickly chase with water or air to deliver the pellets quickly and accurately to the desired depth.
Packaging:
Bentonite Pellets are packaged in 25Kg plastic bags (40 x 25Kg bags per shrink wrapped pallet).