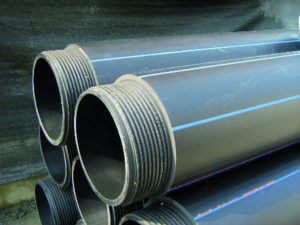 HDPE pipes are manufactured with certified high density polyethylene PE100, they are suitable for transportation of fluids under pressure according to UNI EN 12201, EN 1622 and UNI EN ISO 15494  standards (PN6, PN 10, PN 16, PN 25).
They can also be used for water conveying as they comply with the hygienic requirements of Ministerial Decree n° 174 dated 06/04/2004 and they meet the organoleptic requirements according to EN 1622 standard.
Our range includes pipes with IIP mark according to UNI EN 12201, EN 12201, UNI EN ISO 15494 and EN 1622 standards having diameter ranging from 32 mm to 630 mm with plain ends for butt welding of flush jointed, and screens obtained by slotting HDPE pipes.