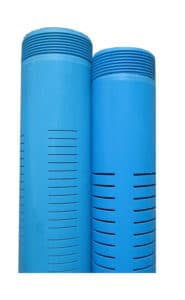 SLOTTED PVC SCREENS – SCREENS FOR ARTESIAN WELLS OR DRAINAGES.
The micro-slotted PVC screens have been used for years to extract groundwater in artesian wells or for drainage works. They are made from our PVC pipes, therefore, they are non-toxic and suitable for use for drinking water according to Italian DM 174/2004, and European regulations (EU) 10/2011 and (CE) 1935/2004. PVC screens  are sturdy, resistant to cracks and to the action of stray currents / corrosive agents. The micro-slotted PVC screens are made by making cuts on the entire usable surface of the PVC pipe to maximize the inlet capacity. The slots are horizontal to the generators of the pipe to provide the screen with maximum hydraulic efficiency while ensuring high collapse resistance. PVC slotted pipes are made according to the customer's needs since the length and number of cuts depend on the open area required and the width of the slots is related to the grain size of the ground. It is also possible to make cuts on one, two, three or four sides (see fig. 1 and 2).
OUR RANGE OF MICRO SLOTTED PVC FILTERS:
Diameters: from 60 to 630 mm
Thicknesses: from 4.2 to 24.0 mm
Slots: from 0.2 to 5.0 mm
Lengths: 1-3-5-6 mt
Joints: M / F threaded with socket, flush joints,  also glued on request.